How to Retrieve Word Files from a Formatted Hard Drive?
Normally, most of us prefer to store various data including Word files on the system hard drive. However, sometimes the users mistakenly format the hard drive, the operating system erases all the stored information on the disk. You will no longer be able to access any of the data that got wiped upon format or a reformat operation. It would be terrible for those users who lose some vital MS Office file like presentations, spreadsheets, MS Word files, etc. Well, there is nothing to get panicked about because there is an absolute solution- Office File Recovery software that easily unformats data from an HDD and hence restoring MS Word files in simple mouse clicks.
Unformatting MS Office files
The Office File Recovery application has the powerful scan algorithms to perform rigorous scanning of the formatted hard drive to restore Word files along with the formatted tables, embedded graphics, bulleted lists, charts and drawings, headers & footnotes and fields including hyperlinks, OLE objects, etc. with the utmost ease. With the help of this software, you can restore lost Word documents file formats like .doc and .docx from the hard drive with ease. This software has the potential to recover Word files from the formatted hard drive of types SATA, SCSI, IDE, etc. of widely used manufacturing brands like Maxtor, Hitachi, Transcend, Kingston, Western Digital, Iomega, Samsung, etc. with utmost ease.
Reasons behind loss of MS Word files from a formatted hard drive:
Formatting the Wrong Drive: Sometimes, when you may accidentally format the wrong partition by specifying the wrong drive letter i.e. D: instead of F: drive can result in a data loss. In addition, while reinstalling operating system you might mistakenly end up formatting the entire partition containing the Word files. This can make you lose the entire Word files in no time.
Virus Attacks: This can be the most crucial state when the corresponding hard drive partition that stores your MS Word files is infected by a severe virus. The virus attack can leave no option other than formatting the entire drive leading to complete loss of data including Word files. Get more information about Word file recovery by clicking here https://www.officefilerecovery.com/word-file-recovery.html.
Other Reasons: The other reasons include the file system corruption, abrupt system shutdown, sudden power failure, using an unreliable third-party tool, etc. can result in loss of the entire data including Microsoft Word files within a few clicks.
In order to overcome the above-mentioned Word file loss scenarios, it's recommended to keep a proper backup of important Word files in some other external drive like USB flash drive, HDD, SDD, etc. Also, stop using the hard drive soon as data loss is encountered, so as to avoid overwriting of the existing data with the new one. Nonetheless, simply make use of this robust application to recover Word files from a formatted hard drive with great ease.
With the help of this software, it's possible to recover Word files from formatted hard drive compatible with the latest versions of MS Word 2003, 2007, 2010, 2013, 2016, etc. with utmost ease. Moreover, you can employ this award-winning software to restore deleted Word files on Windows 7 and other popular versions of Windows OS 10, 8, Vista, XP, 2008, 2003, etc. To grab more information, simply visit here https://www.officefilerecovery.com/recover-deleted-word-files-windows-7.html.
Note: Sometimes the users accidentally delete Word 2010 files from their system and think that it is impossible to recover deleted files. But, as a matter of fact, it is very simple to undelete Word files, just opt for the Office File Recovery tool to recover Word 2010 file and get back the files within clicks.

Steps to Recover Word Files from a Formatted Hard Drive:
Step 1: Download and install Office FIle Recovery software. Select "Recover Files" option from the main screen as shown in Figure 1. Proceed to select the logical drive that is to be scanned for Word files and click on the Scan icon.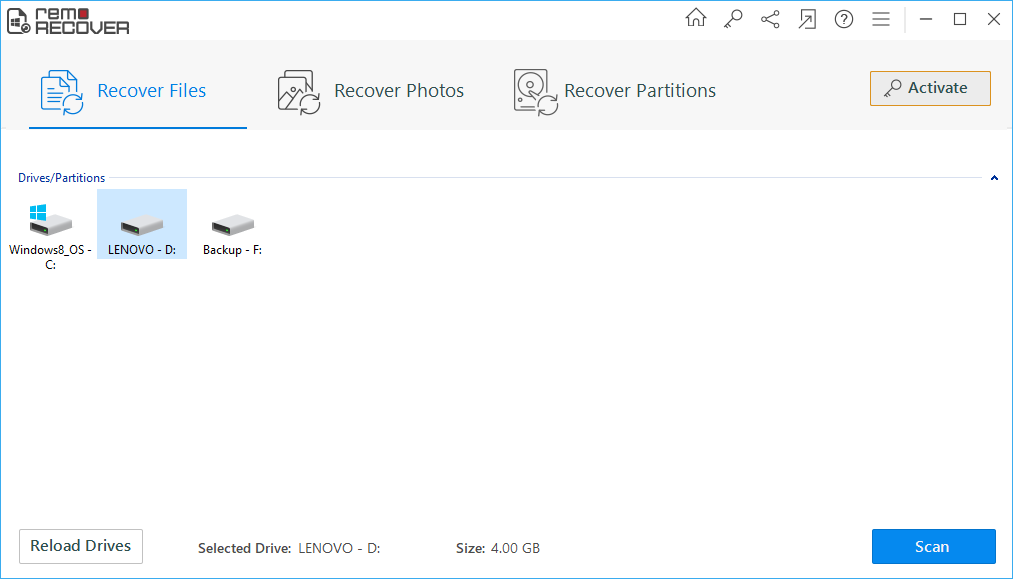 Figure 1: Main Window
Step 2: The program then begins to scan the storage for the Word files that are deleted or lost.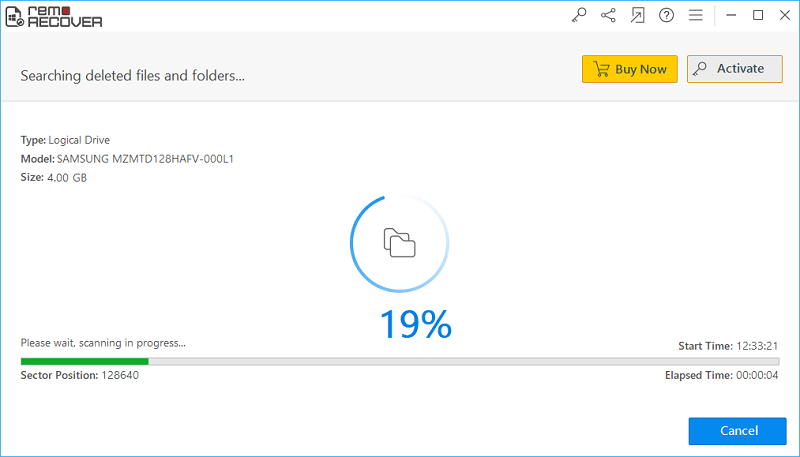 Figure 2: Scanning for Files
Step 3: A list of recovered files appear under "File Type View" and "Data View"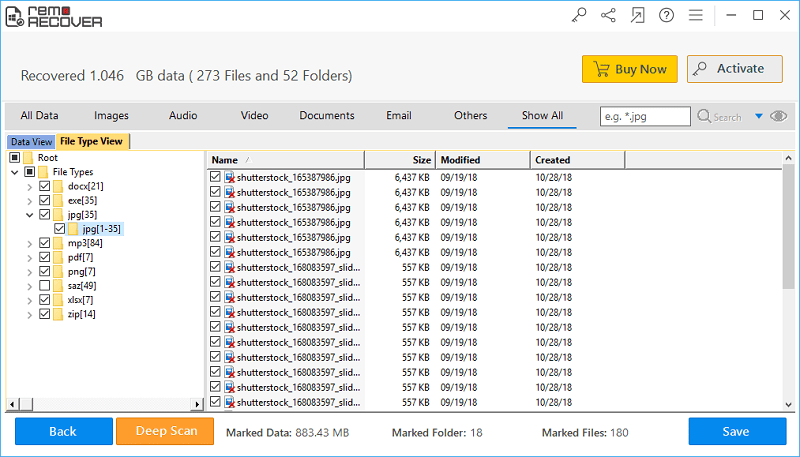 Figure 3: Recovered Files
Step 4: Preview the retrieved files and mark the DOC and DOCX files for saving.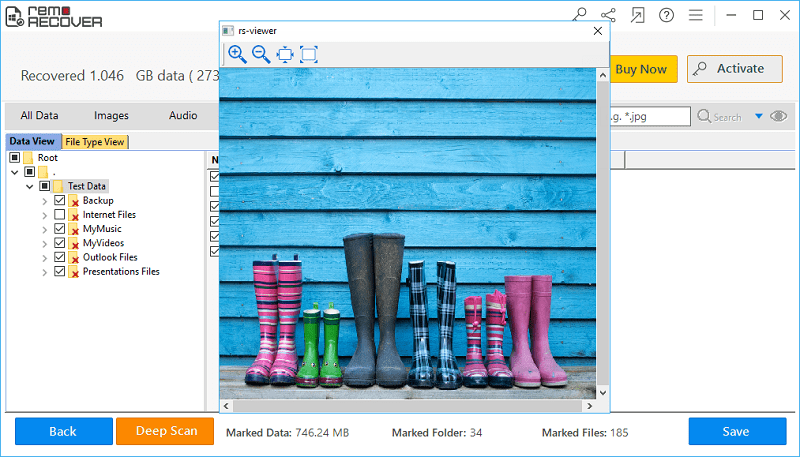 Figure 4: Preview
Step 5: Choose a secure location to save the files marked for saving and hit on the Scan icon.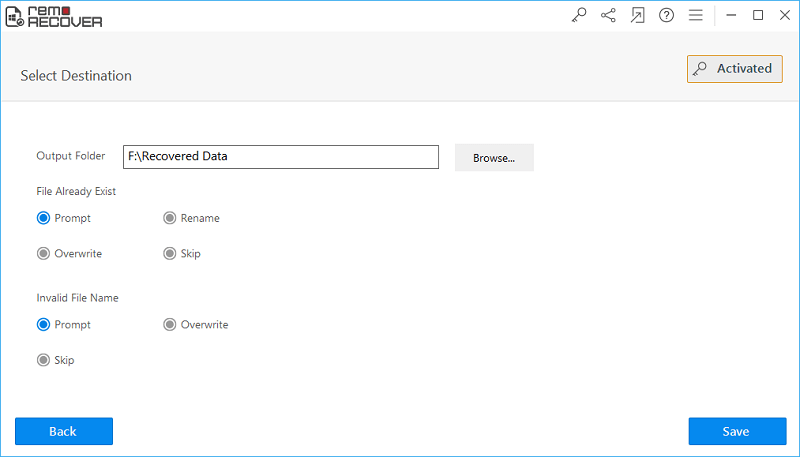 Figure 5: Save Recovered Files