How to perform Word File Recovery?
Microsoft Word is a full-featured word processing program provided with Microsoft Office. Microsoft Word is used to create different types of business and personal documents like letters, resumes, flyers, academic reports, etc. Microsoft Word application saves the files in any of two different formats i.e. .doc and .docx. MS Word 2003 and earlier versions save the files in .doc format. Whereas, MS Word 2007 and higher versions of MS Word saves the files in .docx format
Features of the Microsoft Word program:
Live Preview: This feature temporarily applies formatting on the highlighted text, when any formatting button is moused over it and removes that formatting when the mouse pointer is moved from the button. This helps users to preview the appearance of text without actually applying it.
Mini Toolbar: When you select the text, it is automatically shown in semi-transparent form until the mouse pointer is located on control. It provides easy access to the most used formatting commands.
Spelling and Grammar Checker: Spell and grammar checker checks the spelling and grammar either as you type or when you are ready to check or review the entire document.
In spite of these amazing features, the Word files might get corrupted due to various reasons like round-tripping, application crashes, power failure problems, macro virus attack, etc. When .doc file get corrupted, users may encounter some error messages like-
"Word cannot open the document"
"The document path is invalid"
"Users does not have access privileges to Word file"
These errors do not you allow to open the DOC file resulting in inaccessibility. MS Word has AutoRecover and AutoSave options. AutoRecover is helpful only when unexpected disruption occurs. AutoSave option saves the data based on the allocation of a specified time in the Minute box. Therefore, always try to save the data manually.

Common reasons for deletion or loss of .doc files:
Accidental deletion of .doc file: DOC files may get accidentally deleted using Shift+Delete keys or Windows Command prompt resulting in loss of files. When .doc or .docx files are deleted using Shift+Del keys, they are not moved to Recycle Bin. Instead, they bypass the Recycle Bin resulting in loss of the Word files.
Mistakenly emptied the Recycle Bin: When you accidentally empty the Recycle Bin, all the files stored in Recycle Bin get deleted resulting in loss of .doc files.
Virus attack: This is a common problem that causes loss of .doc files. Viruses are the destructive programs, which have an ability to replicate themselves and cause loss of .doc or .docx files. However, you can employ the Office File Recovey tool to restore lost Zip file after a severe virus or malware attacks with great ease.
Improper system shutdown: If you abruptly turn off your system while the MS Word file is active or open in your computer, the Word files would get damaged or lost.
One can easily overcome the above-mentioned scenarios with the help of Office File Recovery tool. Users will be easily able to recover Word document in Office 2010, 2016, 2013, 2007, 2003, 2002 and 2000 with utmost ease.
Precautions that are to be taken to avoid deletion or loss of Word files are- perform a cross-check before deleting the Word files using Shift+Del keys. Make use of updated antivirus program to avoid loss of Word files due to virus attack. Use UPS to avoid file loss due to abrupt power failure problems.
Office File Recovery Software has the ability to recover deleted or lost .doc and .docx files from the hard drives, memory cards, USB drives, SSD, etc. This software can also recover different types of files based on their unique signatures. This utility can even retrieve inaccessible Word DOCX files from errors and corruptions in a hassle-free way. This software can restore lost Outlook PST on all existing versions of MS Outlook. You can also undelete Microsoft Excel files such as you can retrieve XLSX file, XLS file, etc. by using this software.

Steps to recover deleted & lost word files
Step 1: Download and install the Office File Recovery Software to retrieve deleted Office files. Select "Recover Files" option from the main screen as shown in Figure 1. Then choose the logical drive where the Word files were saved.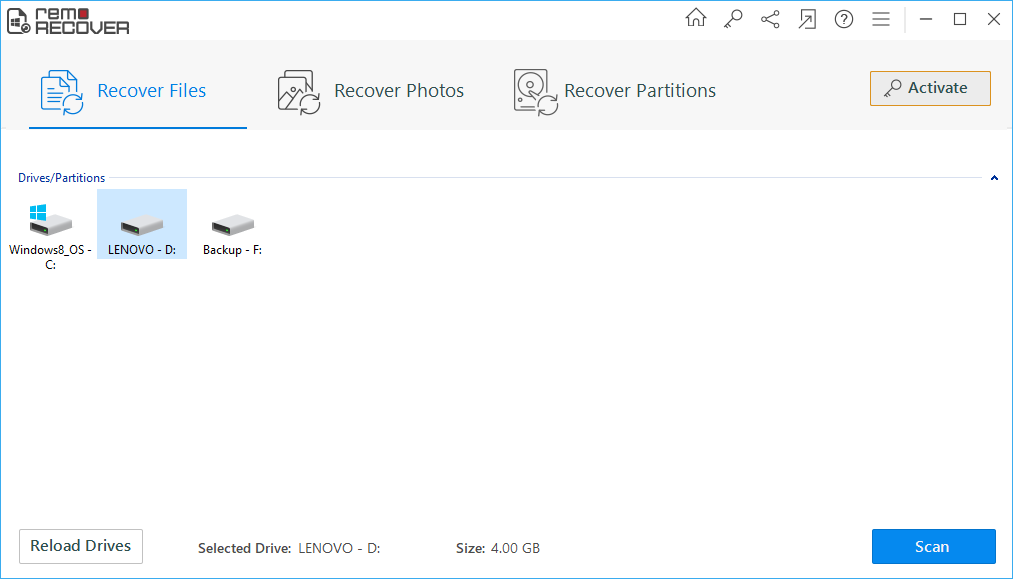 Figure 1: Main Window
Step 2: When you press on the Scan button, the scanning procedure gets initiated.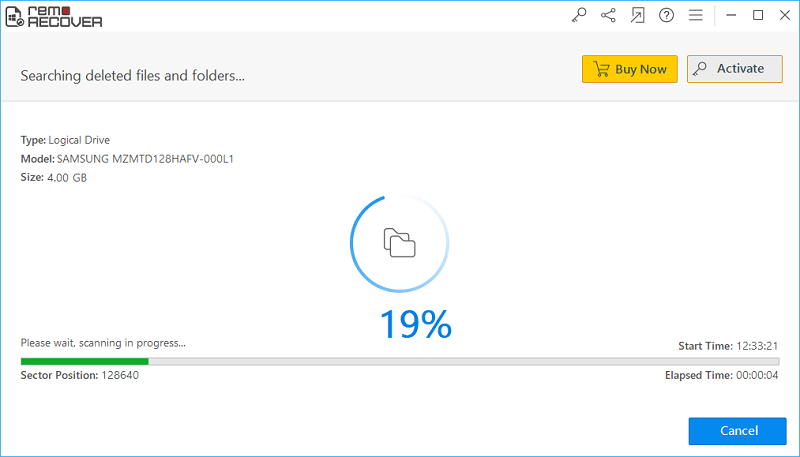 Figure 2: Scanning for Files
Step 3: Check for the recovered file items in File Type View and Data View layouts.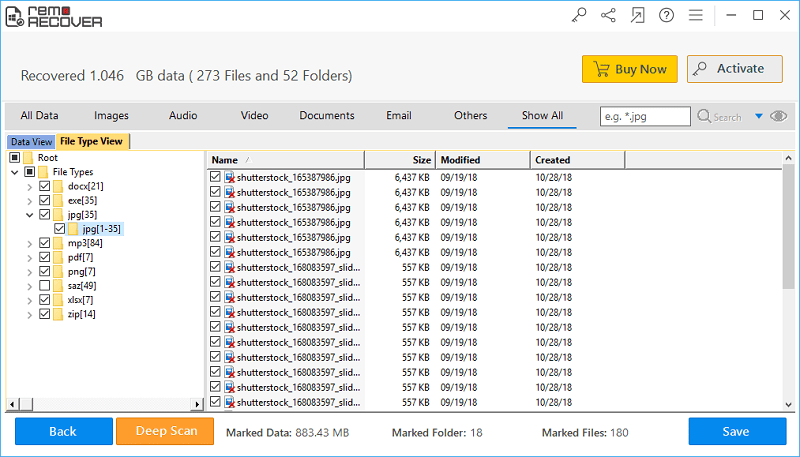 Figure 3: Recovered Files
Step 4: Preview the files by right-clicking on it. Mark the DOC and DOCX files that are to be saved.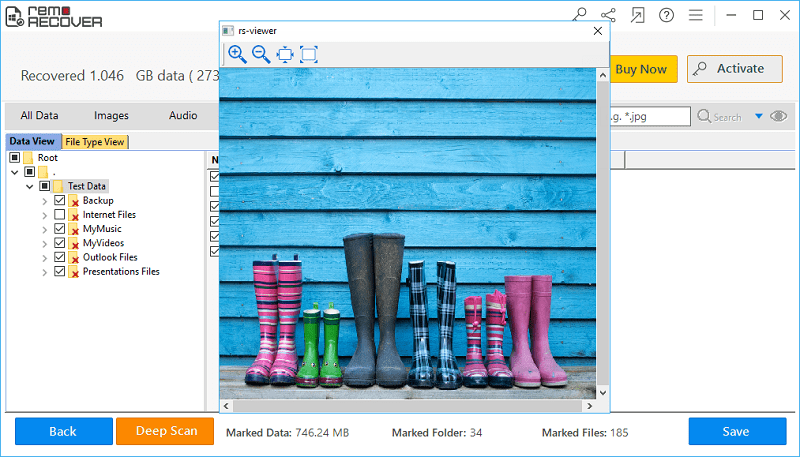 Figure 4: Preview
Step 5: Press on Save button after picking a suitable location to save the marked Word file items.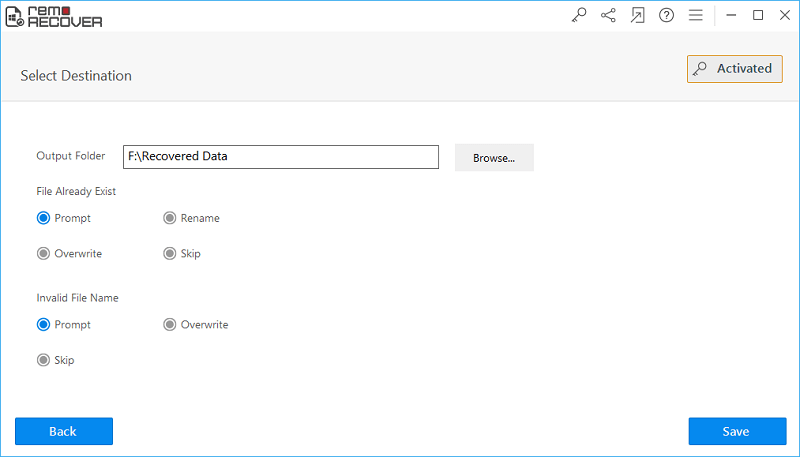 Figure 5: Save Recovered Files