PowerPoint File Recovery Tool
PowerPoint is one of the members of the Microsoft Office package. It is presentation software that uses the graphical approach in the form of slideshows. Basically, there are two older file types (.ppt and .pps) under which all your presentation files will be store. Both of these file types support 2003 and older version of Microsoft PowerPoint whereas the newer versions like 2007 and 2008 have .pptx and .ppsx extensions. At one or the other times, the PowerPoint files get deleted or lost due to various factors.
Common reasons behind loss or deletion of MS PowerPoint files
Accidental deletion: - At times, users mistakenly choose wrong files for deletion. Applying Shift + Delete key combinations to delete a presentation file will permanently erase the file in the system.
Emptying files from the Recycle Bin: - Your Recycle Bin folder might sometimes contain critical PowerPoint files. Being unaware of this you might empty the entire recycle bin folder. With the PPT file gets deleted.
Virus attack because of third-party application: - Virus is a threat to your system. It can corrupt your entire system or a particular file or folder from being accessed. Installing any third-party application may increase the chances of virus attack. The virus can have a bad impact on PowerPoint file content and it could also make it inaccessible.
Improper conversion and power fluctuation: - There are chances that some of the important data get deleted while converting your presentation file from an older version to a newer version. Incomplete file conversion because of a power surge or a sudden system shut down will also turn the PPT file to remain inaccessible.
In order to evade all these types of file loss disasters, it is necessary to have a backup for each and every important PowerPoint file. In case you don't have the backup option then in that scenario it is essential to keep certain things into your mind such as: -
Never ever delete any of your presentations from your Recycle bin before checking the entire Recycle bin once.
Don't use the combination of Shift +Delete key together until and unless it is required.
Execute the cut and paste process properly in order to avoid deletion of certain items or text from your presentation.
Scan the third-party applications before you install it to your computer.
How to Recover PowerPoint files?
Even after following these measures, if you have lost or erased PPT files then there is a simple way to restore them back. Make use of the efficient PowerPoint recovery tool known as Office File Recovery Software which will recover your presentation files in no time. This software is user-friendly, comprehensible and self-explanatory in nature.
PowerPoint File Recovery Utility
The Office File Recovery utility is equipped with the latest mechanism for recovering all the deleted/lost presentation files in a quick span of time. It is fully compatible to run on all editions of Windows OS supporting MS Office 2000, 2002, 2003, 2007, 2010, 2013 and 2016. The Powerpoint recovery software can retrieve PPT files from USB drives, hard drives, SSD, FireWire and other storage devices. Users can also make use of the demo version of this tool and securely bring back deleted or missing presentation files. Moreover, the deleted PPTX recovery tool is equipped with rigorous scan algorithms that instantly scans the drive and extracts PPT files keeping their original attributes intact.
Apart from reviving PPT, PPS, PPSX and PPTX PowerPoint files, this tool is suitable to restore lost Word file, MS Outlook PST files, Excel files, etc. Here you can learn more about how to undelete lost XLSX file and XLS files in simple steps.

Steps to recover deleted PowerPoint presentation files
Step 1: Download and install the Office File Recovery program on your PC to restore lost Office files. Select the "Recover Files" option from the main window as shown in Figure 1. Specify the drive that stored the PowerPoint files that got deleted or lost. Press on the Scan button to proceed.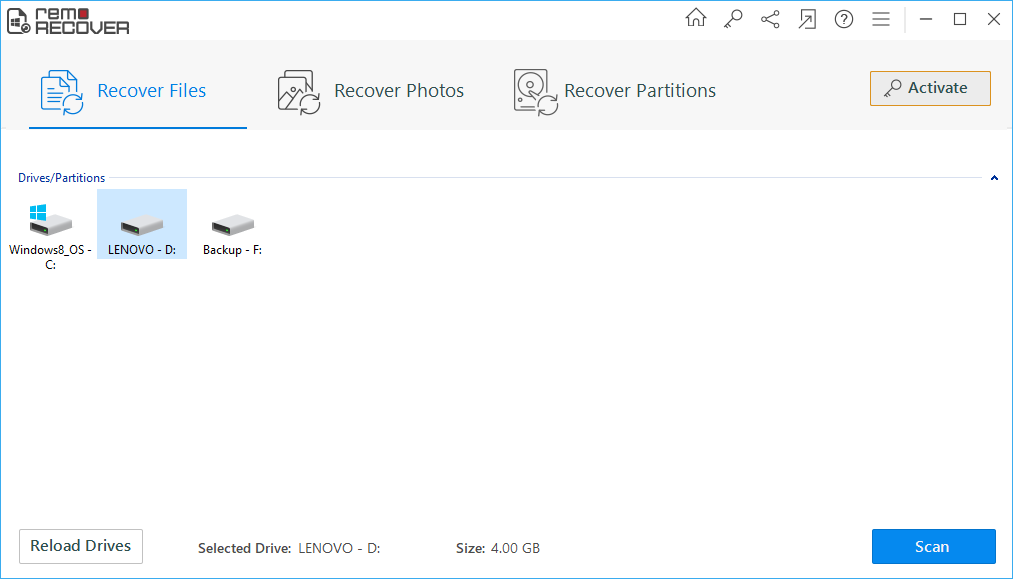 Figure 1: Main Window
Step 2: The programs scans and looks for the PowerPoint files in the drive location you specified.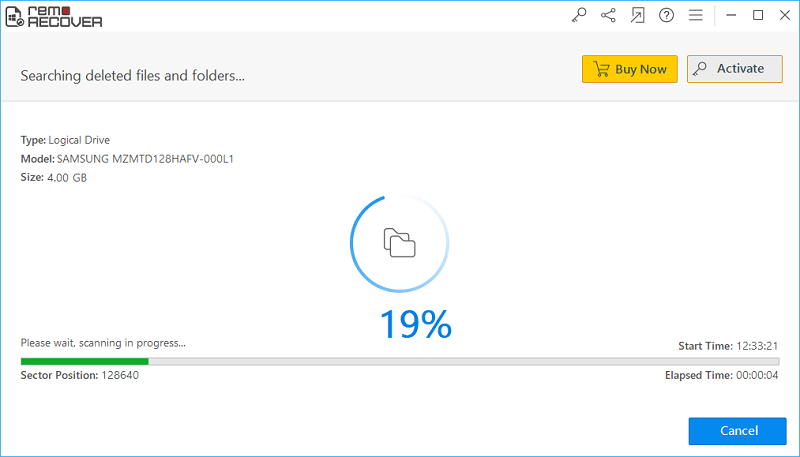 Figure 2: Scanning for Files
Step 3: Check for the recovered documents in File Type View and Data View panes.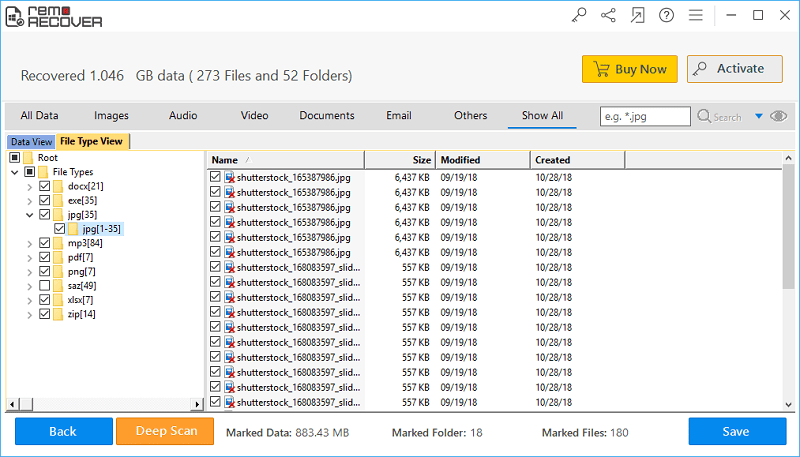 Figure 3: Recovered Files
Step 4: After reviewing the files you need to choose a drive location to save the restored Microsoft PowerPoint files.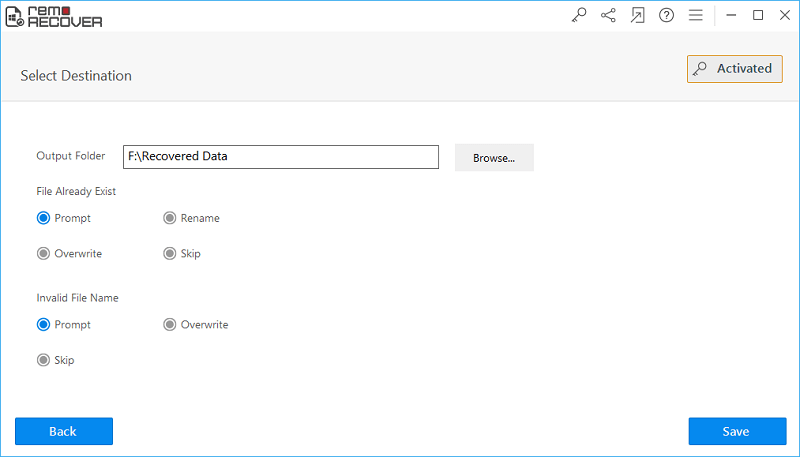 Figure 4: Save Recovered Files