Easy PowerPoint File Recovery
PowerPoint is one of the members of Microsoft Office package. It is a presentation software that uses graphical approach in the form of slide shows. This application has replaced the concept of 35mm slide shows. It can be used widely to carry out business activity or for giving training to different class of peoples ranging from industrial workers to school/college going students. By the help of this application you can perform many activities like creating photo albums, making company's organizational chart, keeping a track of company's growth and making impressive presentation for board meetings. Basically there are two older file types (.ppt and .pps) under which all your presentation files will be store. Both of these file types supports 2003 and older version of Microsoft PowerPoint whereas the newer versions like 2007 and 2008 have .pptx and .ppsx extensions.
General and common reasons for deletion of PowerPoint files are mentioned below:-
Accidental deletion: - It is very frustrating when you lose your important files by accidentally deleting it. Normally, accidental deletion happens when you use a combination of Shift + Delete key. Another case of accidental file deletion is when you perform the process of cut & paste. Sometimes, due to improper execution of this process you may lose valuable data from your PowerPoint presentation.
Emptying and deletion of files from Recycle Bin: - You may have the habit of clearing your Recycle Bin from time to time but sometimes it can be a disaster and you may lose your critical data, if you blindly empty your Recycle Bin. It is recommended that you check your recycle bin before clearing it. There is another way in which your files get deleted automatically from Recycle Bin and i.e. when it exceeds a specific size limit allotted to it.
Virus attack because of third party application: - Virus is a threat to your system. It can corrupt your entire system or a particular file or folder from being accessed. Installing any third party application may increase the chances of virus attack. Virus can de-nature the content of your PowerPoint files and makes it inaccessible for further use.
Improper conversion and power fluctuation: - There are chances that some of the important data gets deleted while converting your presentation work from older version to newer version or vice versa. Improper conversion happens because of power surge or sudden shut down of your system at the time of conversion.
In order to evade such types of circumstance it is necessary to have a backup for each and every PowerPoint file. In case you don't have the backup option than in that scenario it is essential to keep certain things into your mind, which are given below: -
Never ever delete any of your presentation from your Recycle bin before checking the entire Recycle bin once.
Don't use the combination of Shift +Delete key together until and unless it is required.
Execute the cut and paste process properly in order to avoid deletion of certain items or text from your presentation.
Scan third party applications before you install it to your computer.
Even after this if your files are getting deleted then it is essential to use efficient PowerPoint recovery tool known as Office FIle Recovery Software which will recover your presentation files under any circumstances. This software is user-friendly, comprehensible and self-explanatory in nature. Deleted PPTX recovery tool is equipped with latest mechanism for recovering all the deleted/lost presentation files in a quick span of time. This tool is suitable for all the versions of Microsoft Windows Operating System such as Microsoft Windows 7, Windows Vista, Windows XP, Windows 2003 and Windows 2008. The software can also be used to restore lost Word file and Excel files. If you want to undelete lost xlsx file then also you can make use of this software.
The Powerpoint recovery software can retrieve ppt files from USB drives, hard drives and other storage devices.
Follow five easy steps of using the software in order to recover your deleted PowerPoint presentation files:
Step 1: Download and install the trial version of this recovery software and then launch it to restore lost office files. Select the "Recover Files" option from the main window as shown in Figure 1.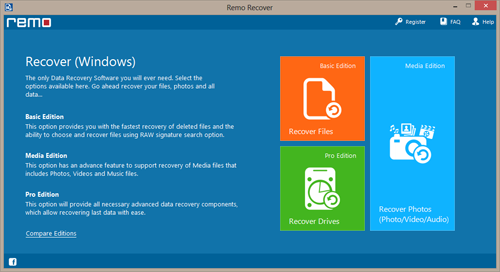 Figure 1 : Main Window
Step 2: From the next window, select the "Recover Deleted Files" option as shown in Figure 2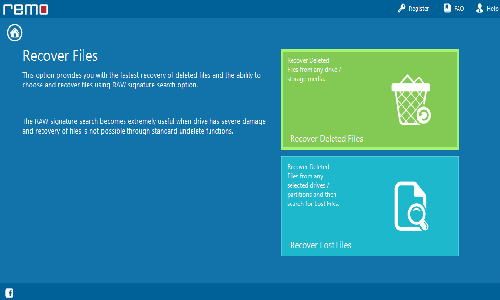 Figure 2 : Select option
Step 3: From the next window, select the drive/partition from where you have lost/deleted your file and click on "Next" as shown in Figure 3. The software will start scanning the drive from where you have lost your critical files.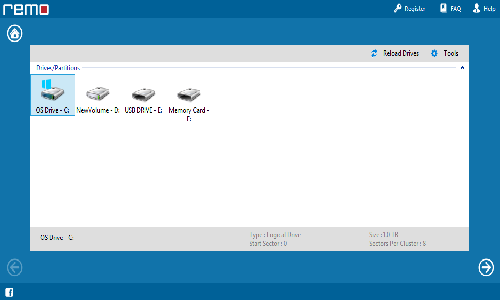 Figure 3 : Select Drive / Partition
Step 4: As soon as the scanning process is completed, you can view the recovered files as shown in Figure 4.
Figure 4 : View Recovered PowerPoint files
Step 5: After successful recovery you can use the "Save Recovery Session" option and save the recovery session for future use.