Restore Overwritten Data on Excel Spreadsheet
Excel spreadsheets are widely used by people for storing their important work report.  When you are working on Excel sheets, it is quite natural to edit the spreadsheet as and when required. This might include adding new data to spreadsheet, deleting old data or overwriting the data on your spreadsheet by replacing it with new content. Suddenly you wake up to realize that overwritten data was very important and now you regret for doing so!!! Thinking of the hours you spent on preparing your Excel spreadsheet, you will really go crazy. Overwritten spreadsheet content might contain your valuable information that is related to your business work. Now you wish to recover it back somehow, but do not know what could be done to get back overwritten file content. Don't panic, restoring overwritten Excel sheet data is no more a complex task. Recover Office Files software is one such advanced tool that aids you in recovering overwritten spreadsheet data in few mouse clicks.
Is it still possible to Recover Overwritten data from Excel Spreadsheet?
Microsoft Excel is industry standard tool used by people around world for creating and storing important work report details. Microsoft Excel files are generally termed as spreadsheets, which are saved with .xls file extension, but new versions of Microsoft Excel saves each created file with .xlsx format. Missing any vital data from excel sheets might interrupt your business activities. When overwriting of Excel data takes place, you usually think that overwritten old data is gone forever and cannot be retrieved by any means. If you are in such assumption then it is wrong!! It is still possible to get back such overwritten data, until and unless the space occupied by old data it is not overwritten by new data on hard drive. In most cases when you replace old data with new content it will probably get stored on different sectors on hard drive, so the sectors that contains old data are not yet overwritten and you can easily fetch back old data with recover office files tool. However recovering overwritten data is impossible when memory space (sectors) on hard drive containing old data is replaced by new data. Therefore to recover overwritten data with ease, you need to stop using your computer for storing new data. This might result in overwriting of existing data with new data and leads to permanent loss of data from Excel sheet that was overwritten earlier.
How Recover Office Files Software works?
Office file recovery software is capable to recover lost XSLX files or XLS Excel file types due to any data loss situation. Let it be any case like overwriting of data on Excel spreadsheet, corruption of Excel file and loss or deletion of spreadsheets, you can  get always take the help of this software to achieve data recovery from Excel sheet at your own. It will effectively scan hard drive and searches file system for recently modified, deleted/lost for Excel spreadsheets. It reads each Excel file from beginning to end to extract and validate their content. At the end of recovery process, it will display each and every recovered file along with existing files in recovered files display screen under "Data View" option by default. Where lost files are shown with cross x mark in red color and each files Name, Size, Modified date and Created date will be shown on display screen. Based on modified date of Excel spreadsheet from which you want to restore overwritten data, you can select that particular Excel file and preview its content.
For an instance, consider that you have modified your Excel sheet by name "abc.xslx" three times on different dates by overwriting some old data with new content. Now you want to recover data from abc.xlsx file that was modified second time and you have fair idea about date of modification. After recovery process is completed, this tool will show all three files by same name, i.e. abc.xslx but with different modified dates. Since you need data from anc.xlsx file that was modifies for second time, you can select it form list by using its modified data or else if you need the data from first file before it was overwritten then you can choose first Excel spreadsheet from list of recovered files. However, you need to buy full version of this software to open and access data from your restored Excel file. If space occupied by old data on hard drive is already overwritten by new data, then you cannot see old file in recovered file list. Moreover, office file recovery software enables user to retrieve deleted PST file in just a few steps.
This office file recovery tool has potential to restore Microsoft office PowerPoint files, Word files, Access files in simple way. In addition, it can also retrieve lost data from Microsoft Outlook PST files under any given situation. It supports recovery of various office files like XLSX, XLS, PPT, PPTX, DOC, DOCX, etc on Microsoft Office 2000, 2002, 2003, 2007 versions and most recent 2010 version. Download demo version of this office file recovery software on PC having any of Windows operating systems namely Windows 7, XP, Vista, Windows Server 2003 and Windows Server 2008. Make use of recovery results obtained from this office file recovery software to estimate its performance.
Steps to recover overwritten data from xls or xlsx Excel files:
Step 1: Download and install free demo version of Office FIle Recovery Software restore data from Excel office files . Once you launch this software, the main screen appears with three options. Select "Recover Files" option from three options as shown in Figure 1.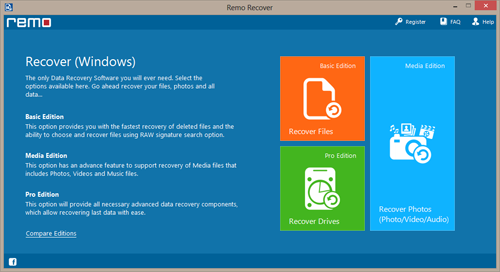 Figure 1 : Main Screen
Step 2: If you want to recover deleted Excel files then select "Recover Deleted Files" option or else select "Recover Lost Files" option to to choose for particular Excel spreadsheet from which you wan to restore overwritten data as shown in Figure 2.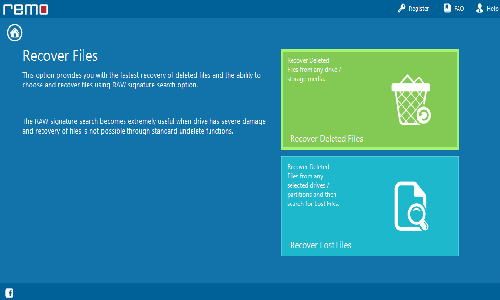 Figure 2 : Select Recover Lost Files
Step 3: In the next screen select logical drive from which you want to recover files then click "Next" button to proceed as shown in Figure 3. From the next display screen select .xls and .xlsx files from the list of office file formats shown under "Documents and Spreadsheets" option and then click "Next" button.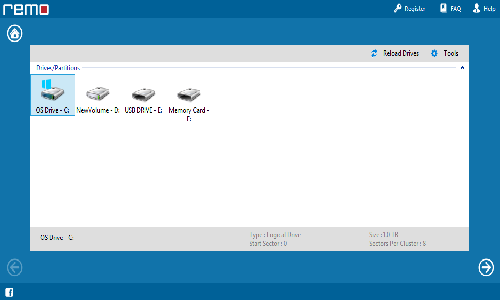 Figure 3 : Select Logical Drive
Step 4: The software starts scanning process. Once the scanning is finished, you can view the list of recovered files and recovered Files are displayed with x mark in red color as shown in Figure 4. You can preview complete file data by purchasing full version of Office file recovery software.
Figure 4 : View Recovered Excel Files