Microsoft Access is a well-known database management tool, which is used to collect related data items such as person's name, his contact number, address, birth date and other related information. When compared to Microsoft Excel tool, it can store and manage huge database data. It has lot of benefits over other tools and some of them are it provides an easy way to retrieve required information at any point of time, it helps in keeping information based on priority of important people, etc. Older versions of Access files used .mdb as extension. The newer version of Access tool comes out with Accdb extension. Earlier Access versions cannot read .Accdb extensions, but latest Access versions can read and change the older versions of Access files.
In some circumstances, you may lose these MS Access files. Some of those circumstances are detailed as follows:
Unintended Formatting: Sometimes, you may mistakenly format your hard drive partition, instead of some other partition. Unfortunately, your important Access files will be saved in this partition. Because of this unintended formatting of hard drive partition, you will lose your most valuable Access files.
MS Access File Header Corruption: Access file header contains some useful information like file name, file size, file location, its location, etc. If this file header gets corrupt due to any reason, then you will not be able to access your Access file, which result in loss of Access file.
Deletion by Antivirus Tool: Sometimes, antivirus tool can be the reason for the loss of your most important Access files. When you scan your computer using any reliable and updated antivirus tool, in order to get rid of virus, this tool will automatically deletes virus-affected Access files from your system without any intimation. In such a circumstance, retrieving missing MS Access files can be easily performed with the assistance of Office File Recovery software.
Power Outage: While accessing or editing your Access file, your system may shut down due to sudden power outage. It may result in Access file corruption and when you try to open such a corrupted Access file, you may not be able to open it. You need to use Office File Recovery tool to recover lost MS Access file without any difficulty.
Besides above-mentioned scenarios, your Access files may also be lost due to various other reasons like simple deletion of Access files, Access file loss after defrag failure, repartition or reformatting, file system corruption, etc. Henceforth, in order to avoid loss of Access files, you need to keep backup of all your valuable Access files without fail. Suppose, if you have failed to maintain backup of these Access files and come across any of these scenarios, then just remain calm and make use of this Office File Recovery software and easily recover lost MS Access file in few couple of clicks.
Features of Office File Recovery tool:
Using this advanced Office File Recovery software, you can recover lost MS Access files created on any version of Microsoft Access tool such as Access 2000, Access 2003, Access 2007 and Access 2010. With the assistance of this tool, you can even recover deleted PowerPoint files, word documents, and Excel files with utmost ease.It supports lost MS Access file recovery on all the latest versions of Windows operating systems including Windows 8, Windows 7, Windows server 2003, Vista, Windows 2000, Windows XP, etc. Using this software, you can even recover word documents on Mac operating systems in hassle free way. It can also recover corrupted or broken Access files, Word documents, PPT and PPTX files, and Excel sheets effortlessly. In addition to these features, it can even restore deleted Outlook files with greater ease.
Follow below mentioned steps to recover lost Access files:
Step 1: Download and install free demo version of Office FIle Recovery Software restore MS Access files. Once you launch this software, the main screen appears with three options. Select "Recover Files" option from those options as shown in Figure 1.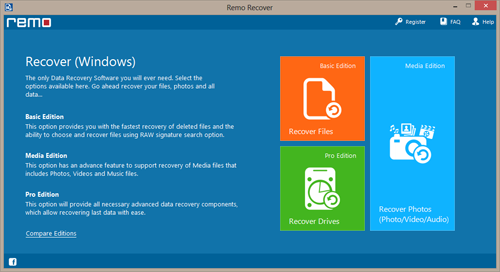 Figure 1 : Main Screen
Step 2: If you want to recover lost Access files, then select "Recover Lost Files" option to recover files, which have been lost as shown in Figure 2.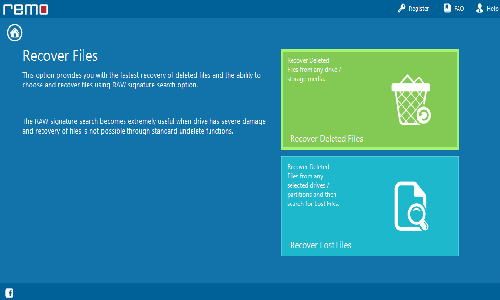 Figure 2 : Select Appropriate option
Step 3: In the next screen select logical drive from where you want to recover lost Access files then click "Next" button to proceed as shown in Figure 3. Select .Accdb files or .mdb files from the list of file formats, which have been displayed then click "Next" button.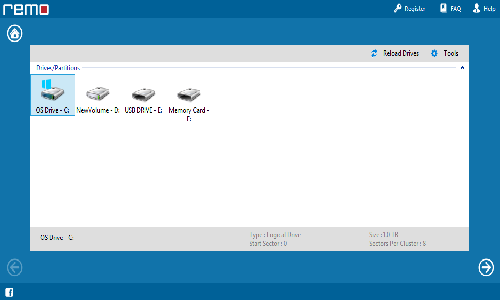 Figure 3 : Select Drive
Step 4: The software starts scanning process. Once the scanning is finished, you can view recovered files as shown in Figure 4.
Figure 4 : View Recovered Access Files