How to get back deleted Powerpoint file??
PowerPoint or presentation file is being widely used by numerous organizations like school, offices, training institutes, etc to prepare reports, documentation and other purposes. However, sometimes while working and preparing presentation slides as of a sudden your system gets turn off can result in deletion of entire PPT files. Are you in search of a reliable method to restore deleted PPT file on your system? In that case, here is a better way to carry out deleted PowerPoint file recovery even after drive get formatted using Office File recovery software.
Gone are those days when you have to be worried about the accidental deletion of PowerPoint file from your computer because now here is a one-stop solution PowerPoint File Recovery , which facilitates you to restore deleted PowerPoint file within few clicks. This software allows you to retrieve deleted PowerPoint file of different file formats like PPT, PPTX, PPS file along with their text, formatting, animation, OLE objects, graphics and hyperlinks including actual presentation header and footer. In addition, this software retrieve password protected PPT files with full preview of the presentation file.You can even perform Office file recovery from My Document folder of your Windows based computer system.
Common scenarios behind deletion of PowerPoint files:
Accidental Deletion: Sometimes, you might accidentally choose important presentation file and end up clicking on "Shift + Delete" combination can lead to deletion of presentation file. Another case of accidental deletion is when you perform the process of cut paste can make you lose valuable data from PowerPoint presentation file.
Emptying of Recycle Bin: Usually, you have the habit of clearing Recycle Bin from time to time. However, at times end up mistakenly click on "Empty Recycle Bin" option and may lose our critical presentation file.
Virus Attacks: There might be the chances of severe virus or infection to your system, which can severely corrupt the entire system making you lose the entire presentation file within few clicks.
To get over these circumstances it is necessary to take proper backup of presentation file. Unfortunately, if fail to do so then you should follow these precautionary measures:
Always make sure that you have properly checked the Recycle Bin before deleting any of the presentation file
Don't use the "Shift + Delete" combination keys together until and unless required
Unnecessarily avoid using "Cut + Paste" command to prevent deletion of presentation files
Employ reliable third party tool to scan and restore deleted presentation file
Nevertheless, even after following these instructions unable to protect your presentation file. Then, it becomes essential to use Deleted PowerPoint File Recovery software that enables you to restore presentation file under any circumstances. This software is equipped with powerful scanning algorithms to perform rigorous scanning of entire system to restore deleted files from latest versions of MS PowerPoint 2000, 2003, 2007, 2010, etc. Moreover, this software has the potential to retrieve PPT presentation file from hard drive, external hard drive, USB flash drive, Pen drive, etc. For complete information to retrieve PPT files from USB flash drive, click here http://www.officefilerecovery.com/retrieve-ppt-presentation-from-usb-drive.html . Further, with the aid of this software you can perform deleted PowerPoint file recovery on latest versions of MS Windows OS 8, 7, Vista, XP, 2007, 2003, etc.
Steps to restore deleted Powerpoint file:
Step 1: Download and install Deleted Powerpoint File Recovery software in your computer. Soon after launching the software, you will get the welcome screen with three different options, among them select "Recover Files" to recover Powerpoint file as shown in Figure A.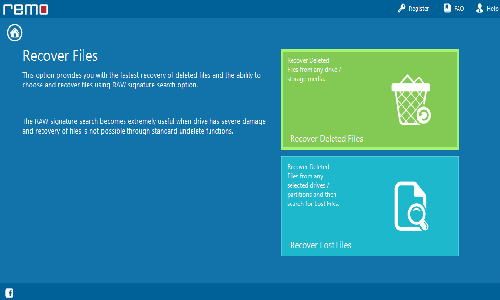 Figure A : Main Screen
Step 2: Select "Recover Deleted Files" option to recover deleted Powerpoint files, and select the drive from where you have deleted the Powerpoint file and scan. Soon after clicking on "Next" will give rise to the scanning process as shown in Figure B.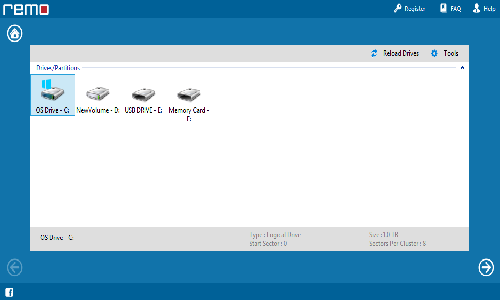 Figure B : Scanning Process
Step 3: Once the scanning process is completed you can view the recovered Powerpoint files displayed in "File Type View" and soon after that using "Preview" option to view the recovered Powerpoint files as shown in Fig C.
Figure C : Preview Recovered Files
Step 4: Soon after previewing Powerpoint files you can save recovered excel files using "Save Recovery Session" option. If you are satisfied with the office file recovery software you can purchase and activate the software to load previously saved and scanned information.