I accidentally deleted a very important Word file from my pen drive. I was working on some Word documents on my system from a past few days. I used to open the Word files directly from my pen drive and save it right there without copying to my computer. The file is completely deleted and is found nowhere on the Recycle Bin folder. So, is there any way to recover deleted Word file from a pen drive? If so, someone please suggest me a solution to restore deleted Word file from my USB pen drive? Thank you…!
This kind of issues can happen to anyone prior warning. In general scenarios, users store their important Word files in their USB pen drives. The value of data saved in the pen drive is sometimes more worth than the pen drive itself. But, removable drives are not much stable when compared to other storage devices and using them for a very long time is not at all a good idea. In many scenarios, Word files get deleted due to many unforeseen reasons. In such cases, one can easily recover deleted Word file from the pen drive by making use of reliable data recovery tool. Office File Recovery is considered as the most reliable and powerful data recovery tool, which can get back all your deleted or lost Word files in a few clicks. In addition, this tool has the potential to restore lost MS Access files from any storage device with great ease.
Some factors that cause deletion of Word files from the removable pen drive:
Accidental Deletion: Users mistakenly the choose wrong files on the pen drive for deletion. The deleted Word files from the pen drive do not get stored in the recycle bin folder and hence result in permanent loss of data.
Deletion by Third-Party Tool: Some third-party tools like antivirus could be the reason behind the deletion of the Word files. Upon scanning the pen drive for viruses and other malicious threats, if the program finds any virus infected Word files then they will be deleted by the tool.
Word File Transfer Interruption: At times, while transferring Word files from a pen drive to the system, the removable drive might accidentally get ejected from the computer. Or else, the system shuts down suddenly due to a power outage. In both these cases, you may lose a few Word files from the pen drive as well as from the computer.
Apart from the above-mentioned scenarios, your important Word files may also get deleted or lost in other scenarios like formatting, corruption and errors. File loss from a pen drive can be easily avoided by maintaining a legitimate backup of the important Word files. In case, if you don't have backup and come across any of these Word file loss scenarios, just use Office File Recovery tool and easily restore erased Word file from the pen drive in a few easy steps. Before using this tool, ensure that no new files have been saved in the lost or deleted Word file location on the pen drive.
Utilize the Office File Recovery tool to restore deleted MS Word documents
The Office File Recovery software supports deleted Word file recovery from the pen drive on both Mac and Windows-based systems. It is capable of recovering DOC and DOCX files from various storage devices like pen drive, external hard drive, internal hard drive, SSD, FireWire, memory cards and other storage drives. This software has the ability to recover deleted Word file from a pen drive formatted with FAT16, FAT32, NTFS, HFS and HFS file systems. Additionally, you can use this software to recover permanently erased PST files, lost DBX files, PowerPoint files, Excel files, Zip files and other media file formats.
The recovery application fully supported by all editions of MS Office including- Microsoft Office 2000, 2003, 2007, 2010, 2013, 2016, etc. A demo version of the tool is also available where you can evaluate the recovery results. Upon recovering restored files you can preview them in two modes- File Type View and Data View. This application works with all brands of USB pen drives.

Steps to recover deleted Word files from a pen drive:
Step 1: Connect the pen drive to the system. As you run the Office File Recovery program click on the Recover Files option. Now choose the pen drive from the list of logical drives in the system. Press on the Scan button.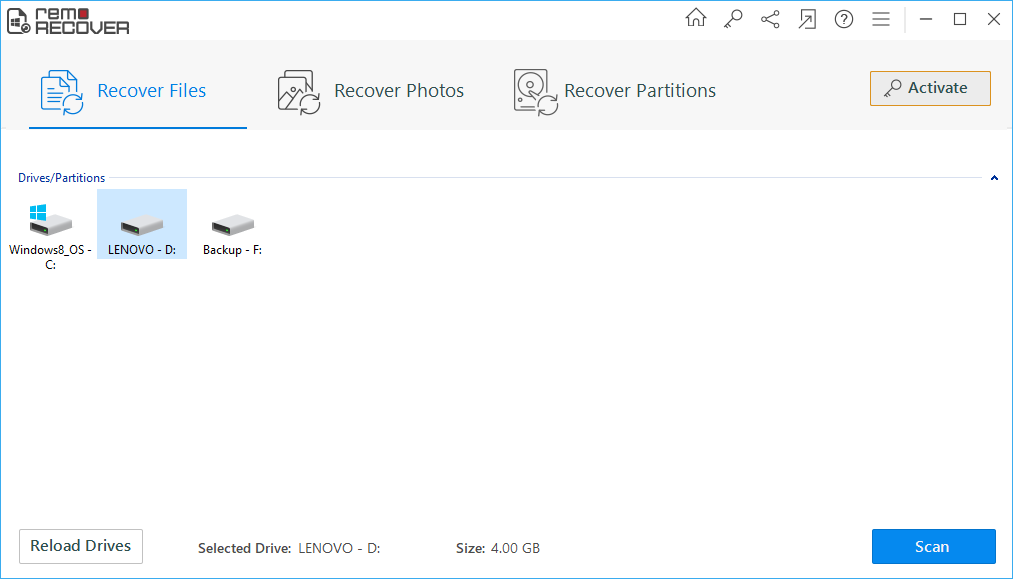 Figure 1: Main Window
Step 2: The software searches for deleted or lost files by scanning the pen drive storage.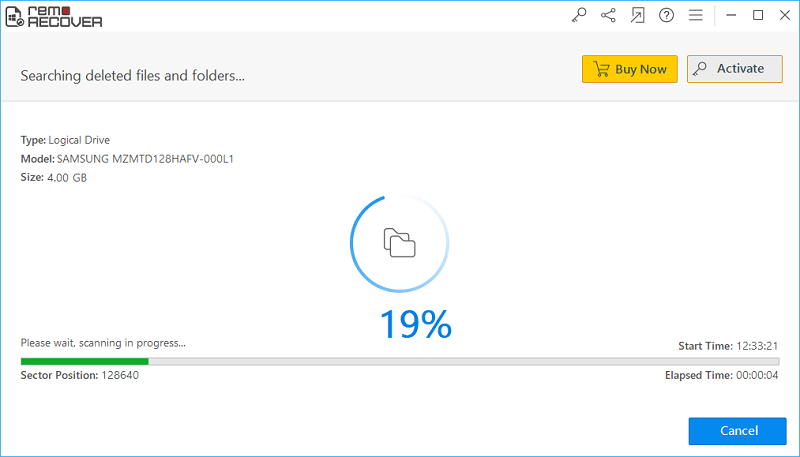 Figure 2: Scanning for Files
Step 3: The files restored from the pen drive will be listed under File Type View and Data View panes.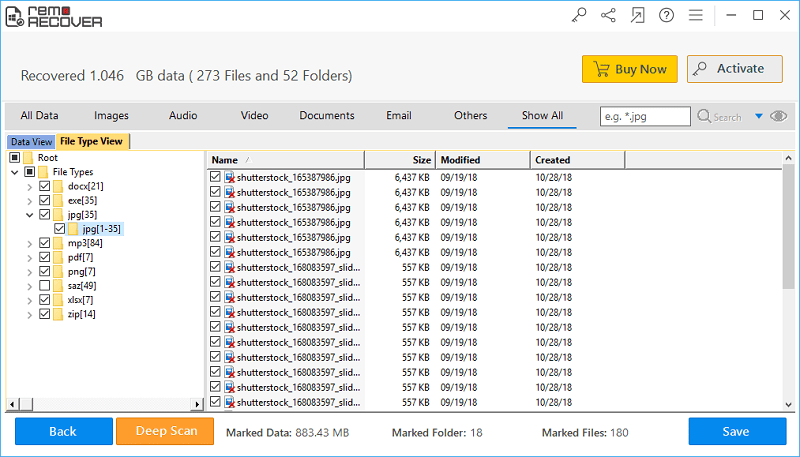 Figure 3: Recovered Files
Step 4: Check the recovered .doc and .docx files and mark them for saving.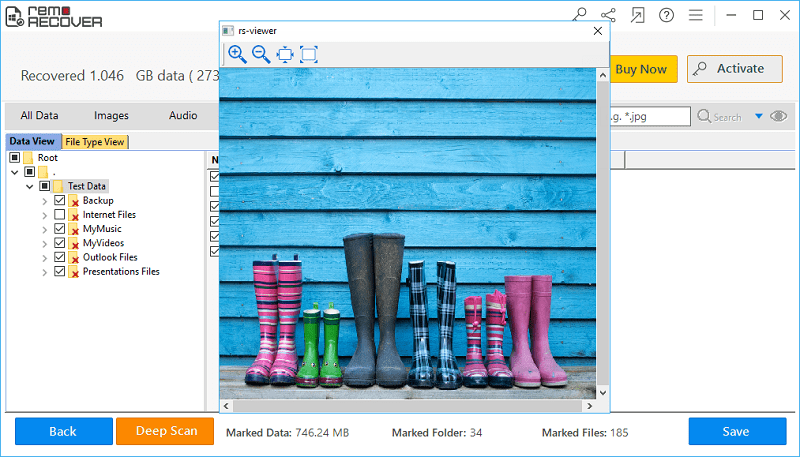 Figure 4: Preview
Step 5: Now choose a relevant file location to save restored Word documents and hit on the Save icon.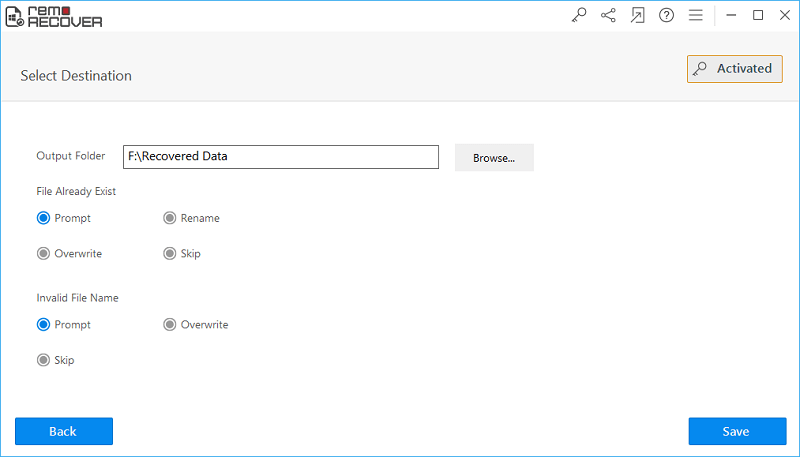 Figure 5: Save Recovered Files