Every Excel sheets are usually created with great patience and skill on different systems. If such important files get deleted or lost due to some reason then a very dreadful situation develops before you (if you don't have updated back of Excel file). The best way to recover deleted Excel files from the Windows 8 system is the implementation of Office File Recovery software. This tool scans Windows 8 computer or laptop hard drive rigorously and recovers not saved Excel file on Windows 8 system in an effortless way.
Excel file recovery after deletion from the Windows 8 system is possible because when you delete the MS Excel file, only its pointer is erased from the file system. So, all the deleted files (including Excel file) resides on the same memory space as long as they aren't overwritten by any of the new files or folders.
Let's walk through some of the scenarios which cause deletion of the Excel file from Windows 8 hard drive:
Accidental Deletion: Saving or deleting files on Windows 8 hard drive is one of the most common tasks done by the users. If you apply Delete on some of the important Excel files then you can restore those emails from the Recycle Bin folder. However, if you delete Excel file using Shift Delete combination key then permanent deletion takes place. Accidental deletion of Excel file can also happen from the Windows 8 command prompt. When we delete any file from the command prompt then deleted files get surpassed over the Recycle Bin folder.
Deletion from the Recycle Bin: Suppose, you have recently deleted some important Excel files from your system hard drive (while arranging file over your system). After deleting Excel files you forgot about it and deleted all files from Recycle Bin in order to boost system performance. When you commit such a mistake you will lose access to the Excel files.
Deletion by the Third-Party Software: There are numerous third-party applications (like CCleaner) which can be used over Windows 8 system. If any of these program malfunctions then they might cause deletion of Excel files from the system hard drive.
Error during File Transfer: Microsoft Excel files can also get missing due to some error while transferring (using Cut-Paste combination keys) them from one saved memory space area to another. As this kind of instance happen there is no manual way left to recover deleted Microsoft Excel files from Windows 8 hard drive.
Always remember these points!
Stop saving any new file or folder on the drive from which Excel file was deleted
Don't format or reformat the drive
Use Office File Recovery software to extract deleted files
Undelete Excel files on Windows 8 using the Office File Recovery tool
Office File Recovery is a pitch-perfect tool to retrieve deleted Excel spreadsheets on Windows. It is built with an intuitive graphic user interface making file restoration process on Windows 8 hard drive much easy. It is an advanced tool that performs recovery of both XLS and XLSX files. Besides helping you to recover Excel file from Windows 8 system, it can also be used for recover different MS Office file formats such as Word files, PowerPoint files, Outlook PST file, DBX files, Access files, etc. This software can also be used to restore erased Open Office files from various storage devices. You can learn how to recover crashed Office 2016 files using this tool.
This Excel file recovery tool is supported by all other versions of Windows operating system (Windows 10, 7, XP, Vista, Server editions, etc.). A demo version of this tool is also available for the users. Thereby a user can recover files and preview them easily.

Steps to recover deleted MS Excel Files
Step 1: Get the Office File Recovery program installed on your computer. Select Recover Files option from the main screen options. Now choose the logical drive that is to be scanned for the deleted spreadsheets. Continue to click on the Scan button.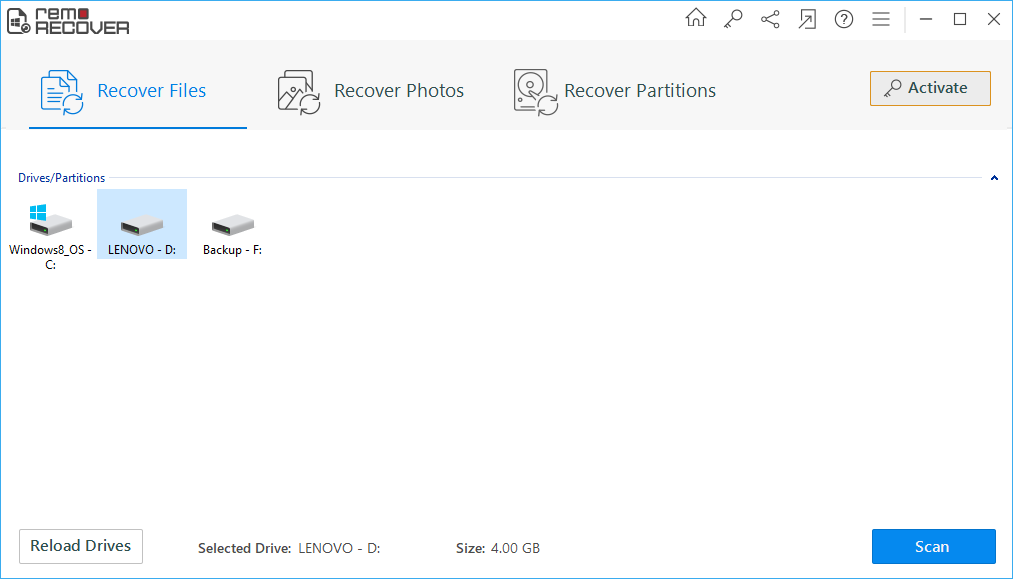 Figure 1: Main Window
Step 2: The software initiates the scan on the drive you selected.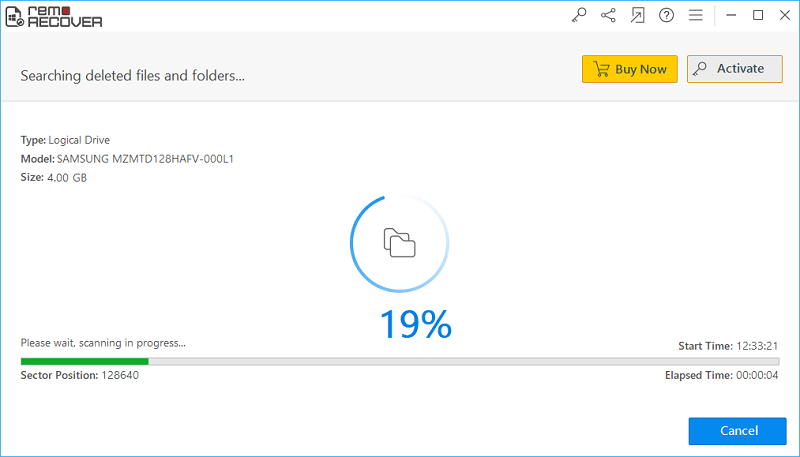 Figure 2: Scanning for Files
Step 3: A list of retrieved files are displayed in File Type View and Data View layouts.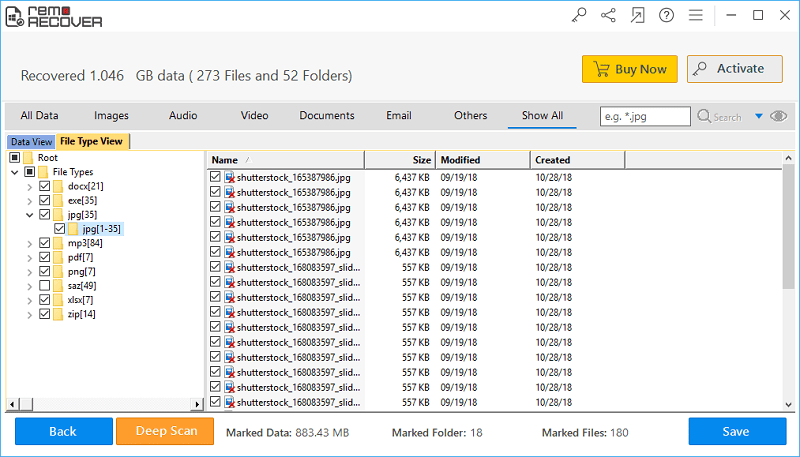 Figure 3: Recovered Files
Step 4: Browse an appropriate location to save the files extracted from the drive. Hit on the Save button.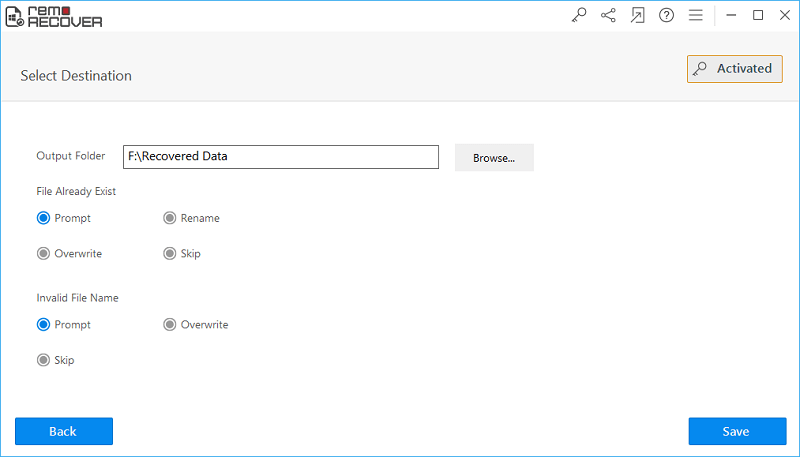 Figure 4: Save Recovered Files