MS Word is one of the best tools that allow users to pen down their thoughts in a very structured and organized manner. This software can contain different other file formats such as images, WordArt, Macros, animation, and many others. A very well documented Word file is of utmost importance to user and hence, they preserve them with great sensibility. Many a time, even after keeping Word document in protective way deletion happens and henceforth a very chaotic environment develops. In such situations users need to remain calm and make use of Office File Recovery software to recover deleted DOC files in a very effective way.
Recovery of documents like DOC or DOCX is feasible task because, when we delete files from any drive, then only virtual existence of file is lost. So, if you apply Office File Recovery software immediately after deletion then recovery of recently deleted Word file is bound to happen. However, to ensure that recently deleted Word document is restored back in the exact same way, users must make note of few things such as, usage of the drive from where deletion happened must be stopped immediately and formatting of the drive must not done. These things must be taken care of because, if the files are overwritten then it won't be possible to recover recently deleted Word document.
Some of the Word document deletion scenarios are as follows:
Accidental Deletion: If while rearranging files or folders on computer if we accidentally delete a few of the important Word files using Shift Delete combination key then, those document files get beyond any manual recovery procedure.
Deletion from Recycle Bin: Many a time we delete some of the DOC files, and leave it on Recycle Bin folder, so that they can restore them later. If before restoring them back, deletion from Recycle Bin happen then those DOC file are lost forever.
Deletion by Third Party Application: DOC files can also get missing from stored location due to malfunctioning of some third party software. Usually when deletion by some third party software happens then files get surpassed over the Recycle Bin folder.
Other Reasons: There are different other scenarios which can cause deletion of Word files such as deletion from Command Prompt, deletion of big document folder, etc. To know more about this kind of scenarios, visit this link: http://www.officefilerecovery.com/recover-deleted-word-files-windows-7.html
In each of these states of affairs users can recover recently deleted Word document with utmost ease. This utility scans entire drive in few seconds for deleted Word files and presents a list in file type view and data type view. In these two preview modes users can check out the files by sorting them in different categories. One of the other benefits of implementing this Office File Recovery tool is that it permits users to recover recently deleted Word document on basis of file type. Without any problem this utility can be used to recover recently deleted Word document over different data storage devices such as hard drive, SSD, flash drive, RAID, SD card, etc. Visit this link to know more about how to restore DOC or DOCX files: http://www.officefilerecovery.com/restore-word-docx-document.html
Steps to Restore Recently Deleted Word Document Files:
Step 1: After installation finishes you will find three options on Welcome Window. Among those options select "Recover Files" as shown in Figure 1. Then choose "Recover Deleted Files" to recover deleted Word files.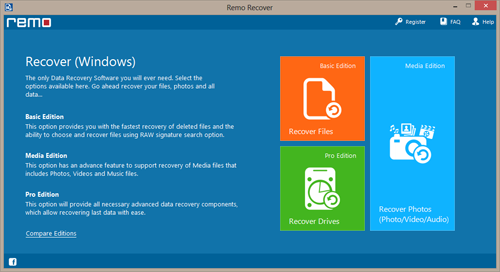 Figure 1: Welcome Window
Step 2: Next choose logical drive from which Word document was deleted and then click on Next button.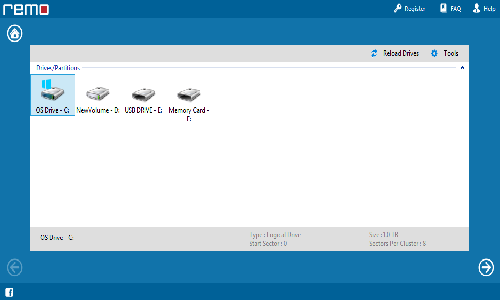 Figure 2: Select Logical Drive
Step 3: You can preview the list of restored files on completion of scanning process.
Figure 3 : View Recovered doc Files