Best Outlook files recovery software
Microsoft Outlook is a standard email client and is widely used by most of the business and office users. It has become a universal email client since it is used by most of the people at their work to have an effective communication in sharing information and maintenance. Microsoft Office Outlook is featured with inbuilt components like contacts, calendar, tasks, and journals etc., which are not available in famous email clients. MS Outlook 2007 is not very different from previous versions of Outlook but has significant features which make it better than the previous Outlook. Instant search option, the new ToDo Bar, which integrates your task, categorizing and the attachment viewer are some added features which are included in MS Outlook 2007. There are times when PST file gets corrupted due to various reasons like virus attack, improper shutdown of Outlook, PST file header corruption, etc. So in order to repair Outlook PST files, make use of powerful Outlook file recovery software.
In addition to the dramatically different user interface shared with Microsoft Office 2007 Outlook it also includes number of added new features:
The Instant Search option in Outlook 2007 can be used to search for keywords, dates or other items located on your email, calendar, contacts, or tasks.
The new To Do Bar integrates tasks so that you can easily manage your daily priorities including appointments, email messages, calendar information, etc.
You can organize your information in more visual ways with the new color categories in Outlook 2007.
You can view your attachments within the Outlook reading pane using the new attachment previewer in just one click. This saves your time and allows you to view attachments in context with the email messages.
The upgraded look for the Outlook 2007 calendar makes it easier to see your schedule and tasks.
Best tool to rescue lost office files like PPTX, PPT, DOC and DOCX etc from hard drive and other storage devices.
These advanced features have increased number of Outlook users across the world but at the same time there are instances of PST file corruption. The common scenarios which lead to PST file corruption are discussed below:
Sharing of PST files over network: Sharing of PST files over a network can also lead to PST file corruption due to accidental deletion or modification of PST files.
Abnormal termination of Outlook: Since Outlook uses complex database file to store all the information, it needs to exit properly upon saving all the data. Sometimes while accessing Outlook your system may suddenly shut down due to power failure or application crash. This will close the Outlook forcefully without saving any data which may leads to enter some incorrect or incomplete information into PST file. This garbage data may result in PST file corruption.
Due to compact operation: Most of the people prefer to compact their Outlook files to reduce the size. Whenever you try to compress your PST or OST file for portability, this may also lead to corruption of Outlook data files.
Impact of third party applications: There are some improperly protected email servers which easily let the viruses or malware to penetrate through them. While accessing your emails, if you come across such servers, there are chances of your PST file getting infected by the virus. Once it is infected, it will automatically slow down the operation of Outlook and may also get corrupt. In addition, utilize this award winning software to get back deleted or lost Microsoft Visio files from crashed or formatted hard drive. For more information, visit here http://www.officefilerecovery.com/microsoft-visio-file-recovery.html
Irrespective of the scenarios mentioned, if you face PST file corruption without backup then using some PST repair tool is the only option left for you. Moreover, this tool can also restore deleted outlook files in few simple clicks. Read here to know more http://www.officefilerecovery.com/deleted-outlook.html
You can also try with the built-in scanpst.exe, but there are some software which can do the job in a better way than your scanpst.exe. Moreover, scanpst.exe is unable to handle severe corruptions. So it advised to use good PST file repair tool which really cares for your data. There are software which can repair your PST file without modifying even a single character of your original PST file. They will scan your corrupted PST file, extract data from it and creates a new PST folder, which you can import back to your Outlook profile. Outlook File Recovery is one such software, which offers an effective repair mechanism. The software supports email recovery on Windows 7, XP and Vista. This software can perform deleted email recovery and recovers accidentally deleted emails from "Deleted Items" folder. It can also be used to restore deleted excel spreadsheet after accidental deletion, virus infection, power failure and human error. You can even download the trial version of this software from company site to fix your corrupted PST file. Along with recovery of deleted / lost PST file the software also helps to retrieve PowerPoint presentation in Microsoft PowerPoint. This Office file recovery Software can also retrieve accidentally erased word document and also retrieve lost access files from various storage devices like hard drives, memory cards, USB drives etc.
Steps to perform Outlook File Recovery are as follows:
Step 1: Download and install free demo version of Office FIle Recovery Software. in your system. Select "Open PST File" option if you know the location of PST file, select "Find PST File" option if you want to find location of PST file, select "Select Outlook Profile" option if you want to recover PST file based on Outlook profile as shown in the Figure 1.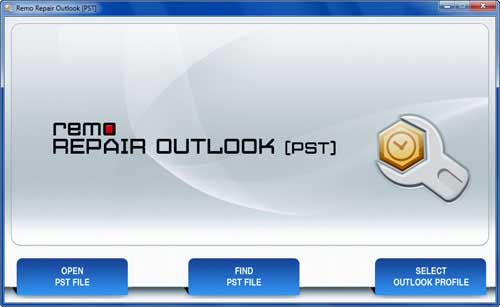 Figure 1 : Main Screen
Step 2: Based on the selected option in previous step, select appropriate PST file and click on "Next" button. After that select "Normal Scan" option and then select destination location where you want to store recovered Outlook files. Then click on "Repair" button to start the scanning process as shown in Figure 2.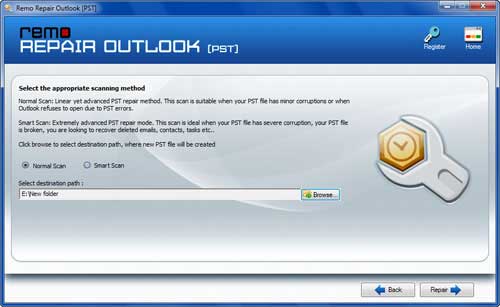 Figure 2 : Select Scan Method and Destination Location
Step 3: After scanning process is completed, you can view recovered Outlook files as shown in Figure 3. If you are satisfied with the recovered result then you can purchase full version of the software.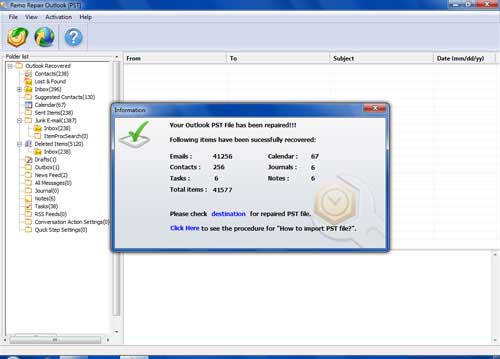 Figure 3 : Recovered Outlook Files